2018 Business Owners and Managers' Road Map for Success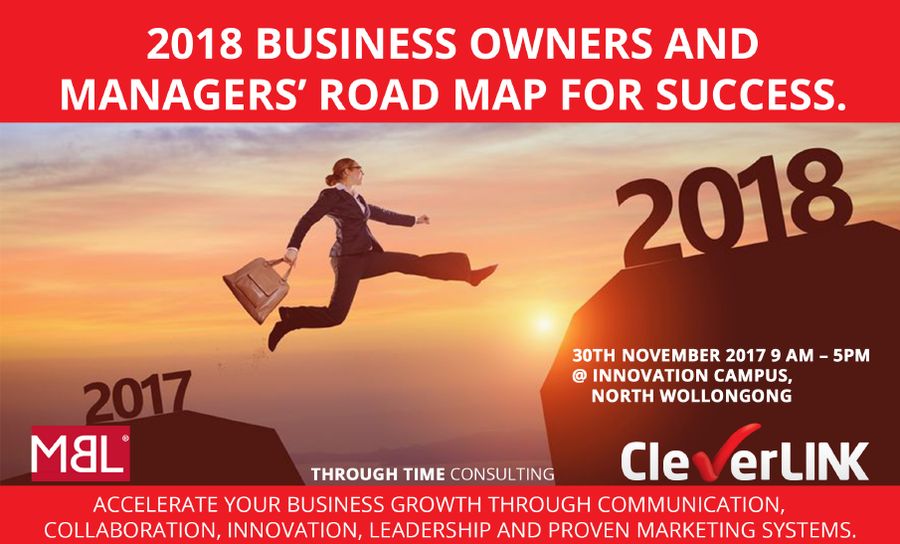 Accelerate Your Business Growth through communication, collaboration, innovation, leadership and proven marketing systems.
The 2018 Business Owners and Managers' Road Map for Success, will support you with how to:
Review

your

personal and professional values to 'drive' self-leadership

Align

your strengths with company values to enhance positive organisational culture

Empower

yourself and your team, with effective models for self-leadership and team-leadership



Enhance

your

communication and collaboration with leading-edge strategies for connectivity

Innovate

with fewer resources to increase productivity and profit

Design

goals with strategic direction and accountability for specific outcomes



Implement

strategic marketing techniques and leading-edge technologies to attract ideal clients
Reclaim

well-being by reducing stress and improving productivity within your 'Success Zone'

Implement

distinctive change management strategies to maximise business growth in 2018!
2018 Business Owners and Managers' Road Map for Success workshop will be led by three experienced and qualified trainers and coaches who also own and operate independent businesses.
Online registration is available on this page. Enquiries are welcome. Phone 4258 3688 - Email events@cleverlink.com.au
Karelynne Randall, MBL - 0411 219 872 | Paulo Oliveira, Through Time Consulting - 0451 519 510 | Camtu Pham, CleverLINK - 0416 253 837
Karelynne Randall

MBL

Karelynne Randall is an Educator, Coach and Master Neuro-Linguistic Practitioner. She is the founder of MBL® Consultancy, and here to help you 'Move Beyond Limitations' for professional excellence.

"Karelynne is an amazing woman with a very big mission, spirit and enthusiasm for changing the way we educate society at every level. She is gifted and the world is blessed as a result of her commitment to share that gift!" Christopher Howard - Entrepreneur | Wealth Strategist | CEO

Karelynne shares her distinctive Signature Strengths® methodology to help you and your business flourish. She is sincere about the profound influence of her work on transformational change for personal development, your business growth and profit in 2018.




Paulo Oliveira

Through Time Consulting

Paulo Oliveira is a Senior Change Manager, Innovation Facilitator and NLP Trainer. Before settling in Wollongong, he spent 25 distinguished years working with businesses and government agencies throughout Europe. Being proficient in four languages allows him to deliver coaching and change- management to multinationals worldwide.




Paulo is very passionate about sharing his expertise in organisational/team culture with local business owners and leaders interested in innovation and pursuing a pathway to excellence.




Camtu Pham

CleverLINK

Camtu Pham is known for her e-Business and Marketing expertise, - hosting informative events and contributing to communities. Camtu founded CleverLINK in 1998 and with her team, she has served thousands of small businesses, listed companies and NGOs.

In 2005, she was named Sydney Business Woman. In 2011-2012, Camtu leads the Online Project for AusIndustry, achieving a record-high d of training 728 businesses in 5 regions to embrace technology and social media to for business growth.

Camtu is an international author, speaker and former university lecturer in Management and E-Commerce. Camtu has committed to serving on various boards and conducted leadership roles within WEA, Corrimal Chamber of Commerce and now for the Diocese of Wollongong.

Whether you are a business owner or community leader, Camtu can show you techniques and tools that can help you to fast track your success.